Keep an Eye Out for Summer Camp 2021 Information!
Camp registrations will open beginning of January 2021!

Camps Connection offers recreational overnight and day camps, as well as therapy-based programs throughout the summer for children with special health care needs. These programs provide an opportunity to gain independence, learn new skills, and enjoy common summer camp experiences.
Pal's Paradise Day Camp
A day camp experience Pals Paradise is a one-week inclusive day camp for children with special needs. Families may register an additional child (sibling or friend) without disabilities to participate in this camp. Activities include cooperative games, crafts, sports, water play, special visitors, and music.
For more details and registration information, please click here.
BECOME Program (formerly Camp Open Arms)
The BECOME Program, formerly known as Camp Open Arms, is a three-week camp run by the Occupational Therapy Department at Children's Specialized Hospital. The camp provides Constraint Induced Movement Therapy (CIT) for up to 6 hours a day, Monday – Friday for the scheduled 3 weeks. CIT is an approach that can be used to improve the strength and function of an upper extremity impacted by hemiparesis, resulting at birth or from a traumatic brain injury. It involves "constraining" the strong or unaffected arm using a removable cast. This approach allows the child to only use their affected or weaker arm during play activities. Individualized and intensive activities will be provided within a group and one on one setting, each focusing on the child's ability to use their affected arm alone, or both arms together. Each camper is evaluated prior and following camp to assess changes made. All camp staff are sensitive to each child's needs and provide support to each participant to help them reach their goals. The camp will incorporate indoor and outdoor games and activities that are challenging but yet successful, and most importantly FUN!


Admission Criteria:

Diagnosis of hemiparesis (Other diagnoses may be considered on an individual basis)
Must be able to lift up the weaker arm to help hold/stabilize an object
Ability to interact well with peers
Sustained attention for activity
Ability to follow directions
Ages: 4-10 years (younger children will be considered based on each site. Please Contact the site representative for specifics)

All children must be screened and evaluated prior to admission into the camp. Space is limited at all the sites and admission is based on the above criteria and on a first come, first served basis.


Camp Chatterbox - Overnight Camp
Camp Chatterbox is a one week overnight camp for children and young adults, ages 5-22, who use synthesized Augmentative and Alternative Communication (AAC) devices. All campers participate in a range of social, recreational, and educational activities to promote use of their communication systems and interact with other children. Therapy activities are led by licensed and ASHA Certified Speech-Language Pathologists, special education teachers, recreational therapists, and other qualified professionals. Activities facilitate AAC device use throughout the day, and help build expressive language and critical thinking skills in a fun and functional environment. In addition, recreational activities include swimming, nature exploration, art, and sports. Each evening, campers, siblings, parents, and staff gather for activities such as campfires, dances, and a talent show.
Camp Discovery- Overnight Camp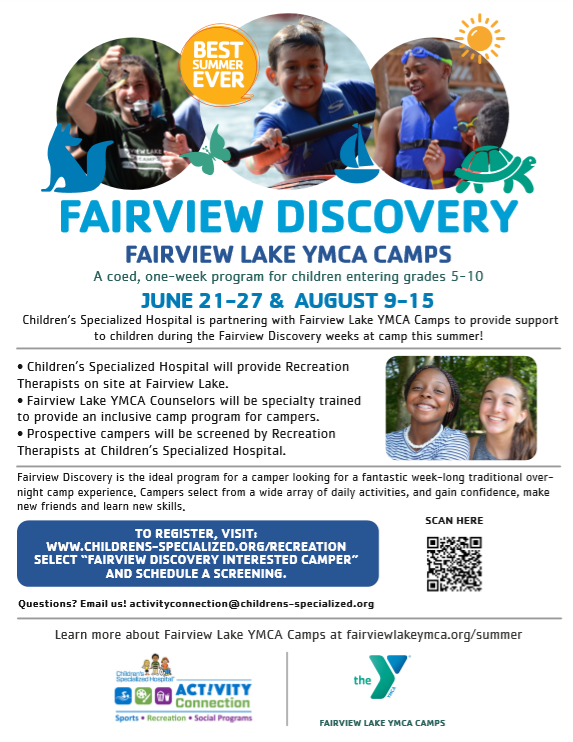 Camp Nejeda at Children's Specialized Hospital