Children's Specialized Hospital
Spring Catalog
Spring 2020 Catalog
Activity Connection is happy to provide another exciting session for the kids, teens and young adults in your life!
Spring Registration is OPEN
!
Click 'Connection' Tabs above or call 908-301-5548 for more information.
New to Activity Connection?
Create an account to stay up to date!
Click "Log In", in the top right corner. From there, click "Create New Account."
Creating an account allows you to stay updated on new programs, register online, and view your invoice.
Helpful Hint- Please c
reate the account using your child's name and information. This allows us to ensure you are receiving content relevant to your child's needs!
Winter Mini Sessions
Winter Mini Sessions have arrived!
Mini Sessions are a great opportunity to try new

programs! Every Thursday this winter, Activity Connection is running a different Mini to promote recreation and leisure exploration, while supporting the needs of our participants! Click below for more info.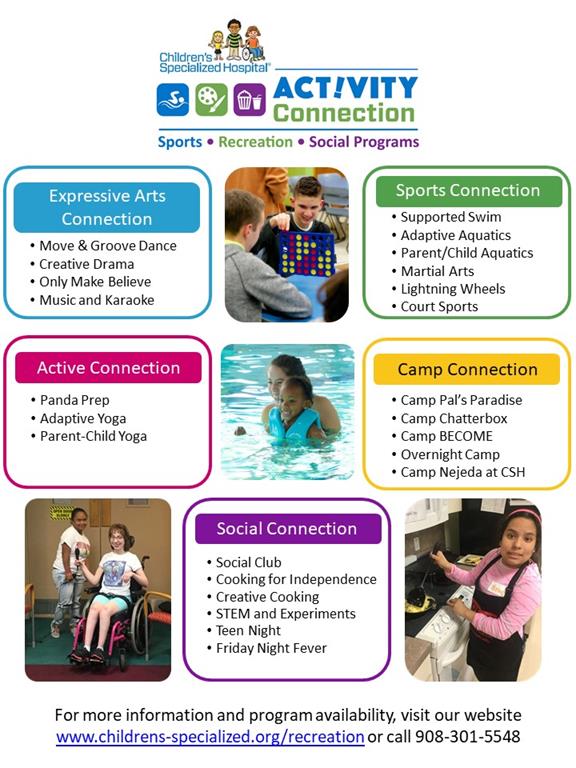 Homepage
Oprima aquí para abrir el guía de cómo crear una cuenta para poder registrar a hijo/a en programas de recreación
The Activity Connection programs at Children's Specialized Hospital include recreation, sports, and social activities for children and teens with special health care needs. The programs provide opportunities to make new friends, participate in physical activities, and enjoy new experiences. All programs are led by Children's Specialized Hospital's therapists, certified program instructors, coaches, and trained volunteers who provide age-appropriate and safe activities in an inclusive and fun environment. Our community recreation programs are available for patients and members of the public. Many programs fill up quickly, so early registration is recommended.



Sports Connection offers competitive and recreational sports programs for youth with special health needs. These sports and physical-based activities help promote strength, coordination, and teamwork for youth of all ages.



Active Connection provides therapeutic and recreational activities for children of all ages. These programs promote physical activity, body awareness, confidence, and health education, and provide access to common childhood activities.



Expressive Arts Connection promotes self-expression through art, music, dance, and drama. Children and teens will explore their imagination in a safe setting that promotes friendship, social skills, and confidence, while building fine motor and coordination skills, and exploring various sensory experiences.

Social Connection provides children and teens an environment to come together and have fun. Children's Specialized Hospital's recreational therapists create structured activities focused on building friendships, self-expression, and improving confidence, in an enjoyable environment.
Camps Connection offers recreational overnight and day camps, as well as therapy-based programs throughout the summer for children with special health care needs. These programs provide an opportunity to gain independence, learn new skills, and enjoy common summer camp experiences.